New StockGoodie ~ $SRPX ~ Full Company Profile:


http://finance.yahoo.com/news/Scorpex-R ... 4.html?x=0
SRPX - Business Description:
Scorpex Inc. (SRPX.QB) a Nevada corporation is focused on becoming a leader of hazardous and toxic waste disposal in the Baja Mexico/California region where demand for waste management exceeds capacity. Scorpex and its subsidiaries have been granted certain Mexican governmental permits and licenses that will allow them to develop and dispose of toxic and nontoxic waste originating from the United States and Mexico.
As of June 1, 2010, Scorpex acquired 100% of the issued and outstanding securities of Scorpex International, Inc. which has an exclusive license agreement with its partner Tratamientos Ambientales Scorpion, a Mexican corporation ("TAS"). Scorpex, through TAS has applied to obtain the necessary governmental approvals to store, gasify, recycle and dispose of residential and commercial, toxic, non-toxic, hazardous and non-hazardous waste.
It has taken eight years, and Scorpex has met many various governmental regulatory guidelines, feasibility studies, and has worked hand in hand with government officials on key issues pertaining to zoning, road studies, environmental guidelines, land issues, health issues, and employment issues.
Recently Scorpex has been granted all permits, Federal, State and Local that now allows phase II of it's business model to be implemented which is to immediately start building a patented waste gasification plant, expected to be finalized in 2012. Funding for the plant is estimated in the amount of $35 million USD, which has already been committed and will begin during Q4 2011. As a result of these efforts, Scorpex will have the only industrial waste processing facility of its kind in Baja Mexico.
Scorpex is currently in discussions with several fortune 500 companies to properly dispose their toxic waste. The company expects to obtain lucrative agreements from these large companies.
Scorpex has recently obtained clearance from "PROFEPA - Procuraduría Federal de Protección al Ambiente" (The Federal Attorney for Environmental Protection) to move the project forward. We have what is termed a resolution/approval to proceed with the project. PROFEPA can be defined as the police of the government or the Attorney General of the environment.
Currently Scorpex has a signed $30 million USD contract from IET to provide the required Gasification equipment.
This is a Gasification/Thermal Oxidation Unit with a low cost of operation. The contract includes all performance and completion bonds, as well as other miscellaneous guarantees.
As far as competition is concerned there is virtually none. Scorpex will soon dominate the industry in this sector. Currently Mexico is limited to shipping waste to France or Holland, trucking back to the United States, or trucking over vast distances to Monterrey Mexico. Shipping alone costs all of these companies, government, and Maquiladoras hundreds of millions of dollars. Many companies are waiting in anticipation for us to finish and begin operations to manage their waste.
At the present time we are, at best, approximately two to three years ahead of any possible competitor. Due to the NAFTA Agreement between the United States and Mexico, Scorpex is able to bring waste in from the United States. Laws and regulations indicate toxic and hazardous waste may be brought across borders to be treated and managed properly, but anything harmful left over must be returned to the country of origin. After our gasification process, there is nothing harmful left to ship back with the leftover toxic waste being reduced to ash.
Scorpex has strategically selected and acquired 24.7 acres of land less than nine miles outside of Ensenada, Mexico. The location was chosen after consultation with numerous officials and local realtors. The site is located less than two miles from the current landfill. On-site improvements to the Company's first facility include a 10,000 square foot specifically designed storage facility with a "catch" drainage system and emergency sprinkler system.
To date, Scorpex has spent more than $3 million USD in connection with the permitting process and the development of the existing property and facility. The property has undergone three years of applications, permitting and governmental required studies.
TAS will provide an efficient, cost-effective and environmentally sound alternative for the transfer and disposal of this waste. Companies may no longer have to ship their waste thousands of miles away by truck or by barge. As a result we expect strong growth opportunities for our company.
In Mexico, the waste management industry consists primarily of national and local companies of varying sizes and financial resources. No other company in Mexico presently processes and disposes of waste through the gasification process, often referred to as thermal oxidation. This gives us a distinct competitive advantage and makes our service attractive to governmental, commercial and residential target markets.
Waste Collection and Disposal:
Disposal of hazardous waste and hazardous production waste
Hazardous material collection for municipalities, counties and other local authorities
Complete separation of material
Decontamination of contaminated sites and soils
Environmentally sound usage of production residuals
Recycling
Option for waste to energy management
Temporary storage for hazardous waste
IET Waste Gasification/Thermal Oxidation Plant:
Equipment and Process:
The Waste Gasification/Thermal Oxidation Plant, Scorpex chose converts waste to ash, is a two-stage waste combustion process that converts combustible organic matter from its existing solid, sludge or liquid state into a gas under an oxygen depleted environment (also know "oxidation"). The resulting gas product is then well mixed with ambient air before being burnt off in a secondary gas-processing unit.
The technology converts any man made or organic waste product back to its natural state, which is inert ash or breathable air. The technology is capable of handling community solid waste content and bio-solids including medical waste, tires, plastics, wood waste, oily waste, furniture and other organic or man-made compounds found in municipal or industrial waste.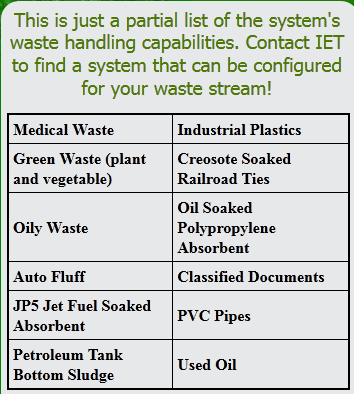 Thermal Waste Gasification:
Eliminates 99.9% of all combustible waste
Provides for 100% recycling
NO smoke or harmful Air Emissions
NO pre-sorting of trash before processing
NO odor
Moisture in the waste does not effect performance
Eliminates animals, birds, and insect scavenging in the waste
Kills all pathogens in Medical Waste
No special handling of Medical Waste
Eliminates need for landfills.
For More information visit our Partner:[/b]http://www.ietinc.net/
http://www.youtube.com/watch?v=rpbXrs0B ... r_embedded
The plant is comprised of three basic components: a Primary Gasification Cell, a Secondary Gas Processor, and a computerized Process Logic Controller. Combustible waste material is placed into the primary gasification cell through the load access door. In some facilities this can be done via a loading conveyor. The proposed design is to have collection vehicles dump their waste load directly into the primary oxidation cell.
The Primary Cell can be either a batch or continuous feed processor. Based on our research, batch processing provides the most efficient and cost effective strategy for the waste management solution.
Residual materials (bottles, cans, ash and misc.) need only to be removed periodically. The composition of MSW consists mainly of organic and combustible waste. Glass and metals are easily extracted in our plant design as it includes equipment that will assist in the process and cut down on labor man-hours. Ash removal is either an automated or manual process. In Automated Unloading mode, the base of the primary gasification cell contains a ductile iron furnace floor conveyor that evacuates material remaining in the base of the unit through a side access door. This dry waste material empties into a storage bin, which can be removed to another location for recycling.
Business Partners: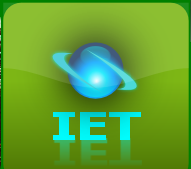 [b]

International Environmental Technologies, Inc. - (IET)
[/b]
http://www.ietinc.net/index.html
IET is a Kentucky Corporation that has developed and patented certain technology documented in United States Patent Number 6,439,135 ("Patent") has successfully passed most restrictive environmental air emission monitoring and residual ash quality tests, as prescribed by the US Environmental Protection Agency and the European Economic Union.

SRPX - Scorpex Inc. is publicly traded on the OTC Market under the symbol,
"SRPX"
, and within the OTC Pink Sheet "Current Information" market tier. As such, Business, operational and financial information on SRPX is fully transparent and available to public view.
Visit:
http://www.otcmarkets.com/stock/SRPX/company-info
for more information.
Market Value: $28,239,471 a/o Mar 19, 2012
A/S : 460 Million
O/S : 206,127,524
Float: 124,209,401
Latest 10-Q Quarterly Report:
Published: Nov 21, 2011 - For the period ending Sept 30, 2011
http://www.otcmarkets.com/financialRepo ... X&id=65871
Incorporated In: NV, USA
Transfer Agent:
Pacific Stock Transfer Co.
4045 South Spencer St., Suite 403
Las Vegas, NV, 89119
Phone: 702-361-3033
Email:
info@pacificstocktransfer.com
Website:
http://pacificstocktransfer.com

Business Wire - (Mon, Feb 13)
Scorpex Receives Second $90M Equipment Financing Commitment:
http://finance.yahoo.com/news/Scorpex-R ... 4.html?x=0
Business Wire - (Wed, Jan 25)
Scorpex Receives $90M Equipment Financing Commitment:
http://finance.yahoo.com/news/Scorpex-R ... 6.html?x=0
Business Wire - (Wed, Jan 25)
Scorpex Announces Final Phase of Permits:
http://finance.yahoo.com/news/Scorpex-A ... 2.html?x=0
Business Wire - (Mon, Jan 9)
Scorpex Seeks to Add New Waste Supply Contracts
http://finance.yahoo.com/news/Scorpex-S ... 8.html?x=0

Business Wire - (Wed, Dec 21)
Scorpex Signs Multi-Million Dollar Waste Supply Contract:
http://finance.yahoo.com/news/Scorpex-S ... 2.html?x=0

Contact Us:
Scorpex, Inc.
10300 West Charleston Boulevard
Las Vegas, NV 89135
Phone: 310-891-1838
http://www.scorpex.com
Company Profile Video:
http://youtu.be/YcyWZWQ5Ra0
This alert brought to you by StockGoodies.com

Follow Us on Twitter:
http://twitter.com/#!/StockGoodies
Follow StockGoodies Blog:
http://stockgoodies.blogspot.com
Follow Us on Facebook:
http://www.facebook.com/groups/STOCKGOODIES
Disclaimer below:
http://stockgoodies.blogspot.com/p/disclaimer.html
Contact Us:
acctstockgoodies@stockgoodies.com
As Always: Our Number 1 Priority is to educate. Penny stocks are very volatile, Always do your own Due Diligence
Sources: otcmarket.com,
http://www.bloomberg.com
,
http://www.finance.yahoo.com
,
http://www.businessweek.com
(these are only sources and not always up to date)