New StockGoodie SPAH Full Company Profile

Spectrum Acquisition Holdings Inc. - SPAH
Spectrum Acquisition Holdings Inc. -Business Description
Spectrum Acquisition Holdings, Inc (SPAH)is a growth phase company with interests in the mining sector. Spectrum, through its mining division, Western American Mining Company, has interests in patented Biomining technology.

Spectrum Acquisition: Digging Smart with Small Footprint and Microbial Gold and Silver Recovery Technology for the Future of Green Mining

Why SPAH Should Be on Your Radar NOW

Avalon Perspectives mining rights on Graham Gulch Gold Mines (Stock Purchase Agreement Signed September 24, 2010) Located in the midst of the most famous high-grade gold sources in America.
Spectrum Acquisition Holdings has acquired Western American Mining Company and its "Green Mining" ecologically small footprint Patent Applications and business.

Spectrum's continuing business plan is to expand through targeted acquisition of companies with strong revenues, high profit margins and audited financials involved with Industrial Equipment Manufacturing, Industrial & Municipal Construction and Engineering companies, industry property management and green mining interests including Bio mining technology and small footprint non-invasive technologies.
Spectrum is developing "Small footprint" technologies including, Laser Guidance Systems for Diamond Wire Stone Cutting, Apparatus for Digesting Metal Ore with Bacteria and new Green Mining technologies that will minimize the traditionally poisonous and toxic environmental threats poised by the mining industry.

SPAH is in a unique position to provide eco technologies and gain a niche in the emerging Biomining industry that remove poisonous waste and chemicals from the process.
Spectrum's division, Western American Mining (WAMCO is in a unique position to bring a Green alternative to the Gold mining industry with Patented Mobile Biomining Ore Processing Bioreactor Apparatus technology using Continuous Refractory Ore Bio-Processing. With record high Gold prices and the acquisition of 3 mines in California, the company has tremendous potential to bring the new technologies promise of eco friendly non toxic alternatives in the mining industry.

$SPAH Company Profile Video:
$SPAH 6 Month Daily Chart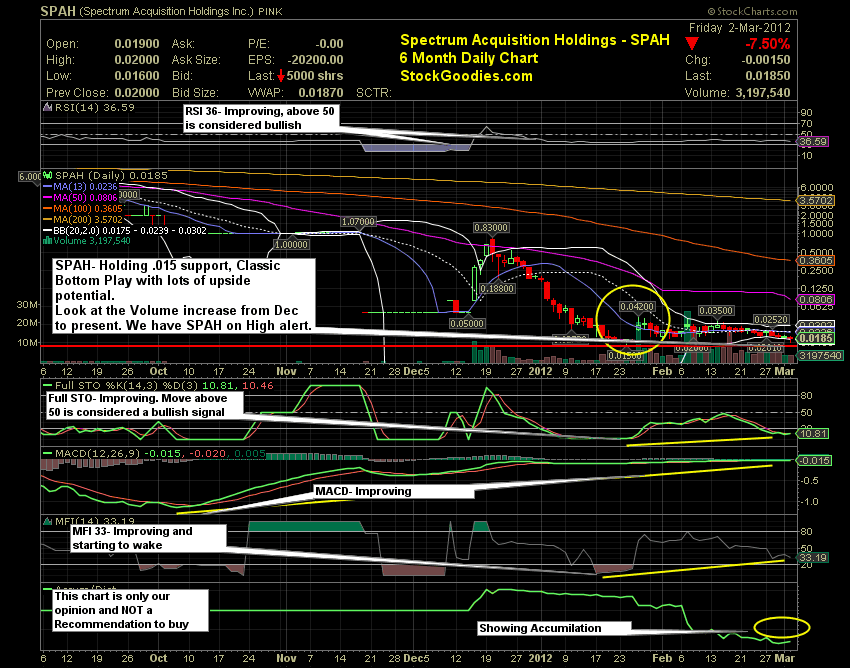 SPAH Mining Division
Spectrum Mining Division
Western American Mining
As a business, Western American Mining functions from the perspective of an engineering firm. Western American Mining is Spectrum Acquisition's Mining division and is the administrator for Intellectual Property, patent applications and develops and acquires proprietary technology and patents that bring synergies and value potential to Spectrum's targeted acquisitions.

Western American Mining creates the synergies between and increases the value of Spectrum's growing mining industry target acquisitions as well as its subsidiary, Avalon Perspectives at Graham Gulch

As of April 2008 Western American Mining merged into the Spectrum Acquisition Holdings public company and changed its name to Spectrum Acquisition Holdings. Western American Mining is a green mining technology division and engineering nucleus that administers the intellectual property and patents for Spectrum Acquisition.

Business & Services
At the core of its operations, Western American Mining is a niche mining technology engineering service company. Western American Mining division provides a unique opportunity to diversify and become active in several mining industries. Our gold and silver forecasts and future product and service offerings are strong considering the current economic climate. Future growth potential in all facets of our growing operations looks promising. We see a very profitable future and we will continue to invest and reinvest profits into making our company recognized in the financial community.

We have developed and maintain a portfolio of Patent Pending applications that form the proprietary base for our research and development efforts in the area of Biomining and small foot print technologies. We believe that our intellectual property and our technology base provides a competitive advantage and will facilitate the successful development and commercialization of techniques and devices for use in a wide array of alternative green mining approaches.
Laser Guidance System for Diamond Wire Stone Cutting Apparatus
Intrinsically SafeSystem for Mineshaft Illumination
Continuous Refractory Ore Bioprocessing Apparatus
Western American Mining Provides Patent Pending rights to Spectrum Acquisition Holdings

PATENT PENDING APPLICATIONS: Technology for Tomorrow SEE Patent Applications
http://www.mineamerica.com/spec_acq/patents.htm
Subsidarys/ Business Partners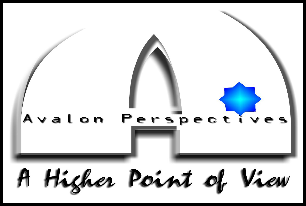 Avalon Perspectives is a Limited Liability Company registered in the state of Nevada. The Company is a wholly owned subsidiary of Spectrum Acquisitions, Inc.
Avalon Perspectives is a Limited Liability Company registered in the state of Nevada. The Company is a wholly owned subsidiary of Spectrum Acquisitions, Inc.

"Gold prices continue to rise around the world as both the consumer and industrial demand for gold increases. By operating as a working commercial mine and a tourist destination, Avalon Perspectives will be able to create a strong revenue base that will facilitate growth and expand its green mining technology in the area as well as its tourist services". Chairman Keith Field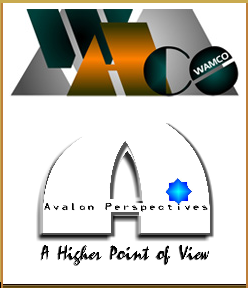 Avalon Perspectives will be located near the south fork of the Salmon River in Siskiyou County, California. This area of California, in the Shasta Cascade region near the Oregon and California border, is a popular recreational activity area and tourist destination. Many tourists come to this part of the state of California because of the region's rich history of gold mining, which goes back as far as the American Gold Rush.

Avalon Perspectives is committed to providing the highest quality tourist attraction with top-of-the-line service and amenities. The Company will also operate a commercial mine, selling all of its mined gold on the open market.

Business Partners
]
As of September 24, 2010 Spectrum has signed a Stock Purchase Agreement with Avalon Perspectives LTD LLC, mining rights administrator for Graham Gulch Gold Mines.
The Graham Gulch Gold Mines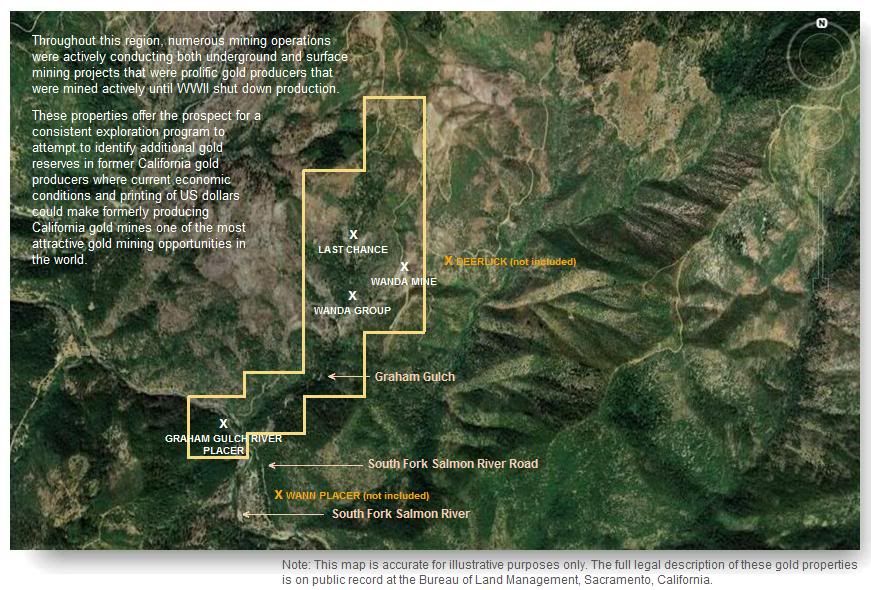 SECURITY DETAILS
Spectrum Acquisition is apublicly traded on the OTC Market under the symbol, "SPAH", and within the OTCPINK market tier. As such, Business, operational and financial information on SPAH is available to public view on link below.

Visit www.otcmarkets.com/stock/SPAH/quote for more information.

Market Value1: $3,899,507 a/o Feb 24, 2012

A/S : 1 Million

O/S : 185,690,816 a/o Feb 17, 2012 (left message with Dale Henry to get update on 2/27/2012

Attorneys Letter
http://www.otcmarkets.com/otciq/ajax/showFinancialReportById.pdf?id=68383
Incorporated In: NV, USA

Year of Inc.: 1987

Security Notes:

New Issue=11-87 2,000,000 shs in units (100 shs Com & 300 Warr 2-10-89) at $10 per unit (best efforts - 10,000 min.) by the company
Latest Addt'l Issue=11-96 11,788,321 shs by selling shareholders
Capital Change=shs decreased by 1 for 1000 split. Pay date=9-28-05.
Capital Change=shs decreased by 1 for 20 split Pay date=03/17/2008.
Capital Change=shs decreased by 1 for 10000 split Pay date=10/05/2011.
Capital Change=Stk. Div.=20%. Ex-date=01/11/2012. Rec date=01/16/2012. Pay date=01/31/2012.


Company Notes:

Formerly=First American Railways, Inc. until 12-07
Formerly=Asia-America Corp. until 4-96

Transfer Agent

512 SE Salmon Street
Portland, OR, 97214
503-227-2950
www.transferonline.com

Recent News
Thursday, January 26, 2012
Spectrum Acquisition To Commence Core Sample Analysis
Business Wire (Thu, Jan 26)
Friday, December 23, 2011
BUYINS.NET Issues Spectrum Acquisition SqueezeTrigger Report
GlobeNewswire (Fri, Dec 23)
Thursday, December 22, 2011
Spectrum to Explore Feasibility of Eco Tours at Graham Gulch
Business Wire (Thu, Dec 22)
Tuesday, December 20, 2011
Hot Stock Research for Halliburton, Corning, Symantec, SPECTRUM ACQSTN HLDGS, Winn-Dixie Stores and Amazon.com
PR Newswire (Tue, Dec 20)
Monday, December 19, 2011
Spectrum to Begin Environmental Impact Studies at Avalon Perspectives Mining Sites
Business Wire (Mon, Dec 19)
Friday, December 16, 2011
Spectrum Acquisition Holdings Developing "Small Footprint" Technologies
Business Wire (Fri, Dec 16)
Thursday, December 15, 2011
SPAH Focused on Eco Mining Technology
Business Wire (Thu, Dec 15)
Management Team
Dale Henry - CEO/President
Spectrum Acquisition Holdings
4301 W. William Cannon Dr.
STE B-150 #253
Austin, Texas 78749
Phone: 512-924-9308
FAX: 512-532-0591
Email:
dhenry@mineamerica.com
Contact Us
Spectrum Acquisition Holdings, Inc.
4301 W William Cannon
Suite B 150 No 253
Austin, TX 78749
United States - Map
Phone: 512-924-9308
Fax: 512-532-0591
Website: www.mineamerica.com
9WV5UBKN4TH7 Follow Us on Facebook http://www.minataurgroup.com/ http://www.stockgoodies.com/